[two_third]
A Message from the New Program Manager, Jerry Duffy
I'm so pleased to have been given the opportunity to work with the volunteers and clients of Thresholds. Over the years, I've read about Thresholds' long tradition of going into prisons to help the inmates with decision-making skills, and I remember thinking how this type of work must be very rewarding for the volunteers involved.
I've lived in Delaware County my entire life. After graduating from Temple University, I started working in Finance. I became a Bond Trader and then a Stock Broker and spent many years working in an industry that left me feeling as though something was missing in my life.
In 2003, I changed my focus when I became the Executive Director of Media Fellowship House and started counseling clients on financial and housing matters. It was there that I discovered how fulfilling it was to make a difference in someone else's life and not to focus exclusively on my own.
When I discovered that someone I knew had been involved with Thresholds for a few years, and I heard that this position had opened up, I knew that it was time to jump on something that I had been putting off. And after meeting the Board and volunteer teachers and seeing their passion and commitment for this mission, I realized I had not made a mistake in wanting to be a part of this group.
During my short time here, I have seen that everyone associated with Thresholds has a genuine love for this work. They sincerely care for the clients they help and are committed to ensuring that these clients make the decision to stay out of prison and not the decision to return. I'm excited to be working with Thresholds and hope that I will have as positive an impact on it as it has had on me.
Contact me at the Thresholds office with any questions & suggestions. I look forward to getting to know you.
-Jerry
Outreach
Thresholds is reaching out to other programs with similar missions to share resources and learn from each other. They are also reaching out to us. The program below is free and open to the public: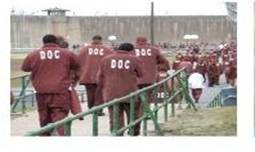 Saturday, March 24, 9:30-12:30:
Concrete, Steel and Paint — Documentary of prisoner/victim mural project, United Methodist Church of Valley Forge, 600 Walker Road, Wayne. Watch the documentary, connect with others.
RSVP: [email protected] or 610-688-7055
[/two_third]
[one_third_last]
Newly Graduated Volunteers
The January 2012 Volunteer Training Workshop was held at Neumann University, January 28 & 29. Congratulations to all!
SAVE THE DATE!
Thresholds in Delaware County Annual Dinner Meeting
Monday, April 16, at Anthony's in Drexel Hill. More information coming soon.
Another Volunteer Training Opportunity
Thresholds of Chester County is holding a Volunteer Training Workshop March 24 & 25, 2012. For information, contact
---
About Us
Thresholds in Delaware County is an organization of volunteers who teach decision-making skills in the State Correctional Institution, Chester; the George W. Hill Correctional Facility, Thornton; and the Juvenile Detention Center, Lima PA.
Would you like to volunteer to teach? Contribute time or money to support our efforts? Or just get more information about our program to return people to the community better able to make good decisions about their lives? Please contact us. And help us reach more people by forwarding our newsletter.
Contact Information:
Thresholds Office, P.O. Box 114, Thornton PA 19373
610-459-9384
www.thresholdsdelco.org [/one_third_last]