[two_third]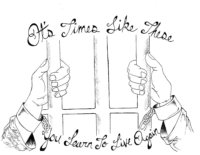 Dear Friend of Thresholds,
The artwork above is by Tee Jones. If you are on our postal mailing list, you read about Tee in Fran Cook's recent letter. His is a story worth telling, so in case you haven't read Fran's letter, I included it in this issue.
Tee gave his artwork to me at SCI-Chester's Volunteer Appreciation Dinner Nov. 17. It was a wonderful evening. Inmates provided instrumental and choral music, cooked and served the food, and three of the men gave inspirational speeches. We all could feel how important it was for them to contribute in such positive ways. During our Thresholds lessons we talk a lot about gifts and limits. The men who participated that evening have truly looked for the gifts and are using their time in prison to rethink their lives and plan for the future, thanks to people like our Thresholds supporters and volunteers. You help them, as Tee says, "learn to live again."
I also want you to know that this year we are having a special December get together to say good-bye to someone very special to Thresholds. (Invitation at right.) We hope to see you at the dinner to celebrate the season and the work of our devoted Friend of Thresholds, Connie Roggio.
Mary Ellen
Mary Ellen Goldfarb, President, Board of Directors
---
Fran's Letter
Dear Friend of Thresholds,
Thomas "Tee" Jones: 49 years old, father, grandfather, studying to be a minister. Thresholds teacher at SCI-Chester . . . and incarcerated at the State Correctional Institution in Chester, in prison for 29 years now, 6 1/2 years were on death row.
I wish you could meet this man. He is enthusiastic and delighted to teach fellow inmates the six-step decision-making model. One of the "lifers" in the prison, Tee is well respected by both the inmates and the administration. He is involved in many other activities besides Thresholds and goes out of his way to help others.
Tee was one of the first inmates to graduate from the Thresholds program. He recognized its impact on inmates and asked if he could also become a teacher. A team of Thresholds teachers went into the prison and trained Tee, along with four other men who also graduated from the program, to be volunteers. They, too, have worked one-on-one trying to help other men to make changes in their lives.
It seems that once you have experienced how Thresholds can really change a life, give someone the control he or she needs, you want to share that with others. Going into SCI-Chester week after week and seeing the difference it makes in the men's lives has given me the passion to continue year after year. It has been 22 years and I don't think of stopping!
Thresholds has been successful in changing lives not only at SCI-Chester but also the George W. Hill Correctional Facility and the Juvenile Detention Center. We share the tools needed to become a deciding person and not a reacting person. It makes all the difference in the world to our clients.
If you have not experienced that awesome feeling lately of helping a man, woman or youth, please consider teaching a client in the new year, or even this year. Simply call or email our office. We would love to hear from you. Connie Roggio (Hill), Tina Stanton (SCI-Chester), and Jerry Nowell (JDC) welcome and support new (as well as returning) teaching volunteers. There are other ways to help as well, with clerical work or technology skills, for example.
You can also help by supporting the Thresholds program with your donation. Funding is not an easy part of our program. Volunteers who join to teach are working hard to keep our program financially stable. Your donation truly helps that happen.
We thank you for your help whether it be teaching a new client, serving in other ways, or making a donation. After all, you know you are unique, you are important, you are irreplaceable!
Sincerely,
Fran Cook
Past President of the Board
[/two_third]
[one_third_last]
Coming up–Thresholds Training for Volunteers
Sat., Jan. 28 & Sun., Jan. 29, 2012
Neumann University, Aston, PA
Teach Problem-Solving Skills to a Prison Inmate! Make a difference!
See Contact Information below to register or for more information.
JOIN US . . .
THRESHOLDS IN DELAWARE COUNTY
Invites Friends and Friends of Friends to a Holiday Buffet Dinner & Celebration of Connie Roggio's Retirement

Monday, December 19, 2011, 6:30 P.M.
Generations Restaurant
9 State Road, Media PA
$28.00 a person (includes dinner and contribution to a gift for Connie)
R.S.V.P. by Wednesday, December 14
Mary Ellen Goldfarb
(610) 565-9388
Make checks payable to:
Mary Ellen Goldfarb
765 Farnum Road, Media PA 19063
Please indicate:
Name, # Attending, Phone/email
Please select: Chicken or Salmon or if you cannot attend but wish to contribute to a gift.
About Us
Thresholds in Delaware County is an organization of volunteers who teach decision-making skills in the State Correctional Institution. Chester; the George W. Hill Correctional Facility, Thornton; and the Juvenile Detention Center, Lima PA.
Would you like to volunteer to teach? Contribute time or money to support our efforts? Or just get more information about our program to return people to the community better able to make good decisions about their lives? Please contact us. And help us reach more people by forwarding our newsletter.
Contact Information:
Thresholds Office, P.O. Box 114, Thornton PA 19373
610-459-9384
www.thresholdsdelco.org
Visit our website
[/one_third_last]